Skip to Content
Easter Weekend at Silverado
Dining Events, Kids Activities and more!
Discover the quality time you've been yearning for this Spring with a visit to Silverado Resort. Enriching experiences are a foundation for memories, which is why we have recreation and culinary offerings for every member of your family and friends. With wireless connectivity across 1,200 acres, and spacious suites for a most comfortable stay, we make it easy to flex your days - no vacation days needed!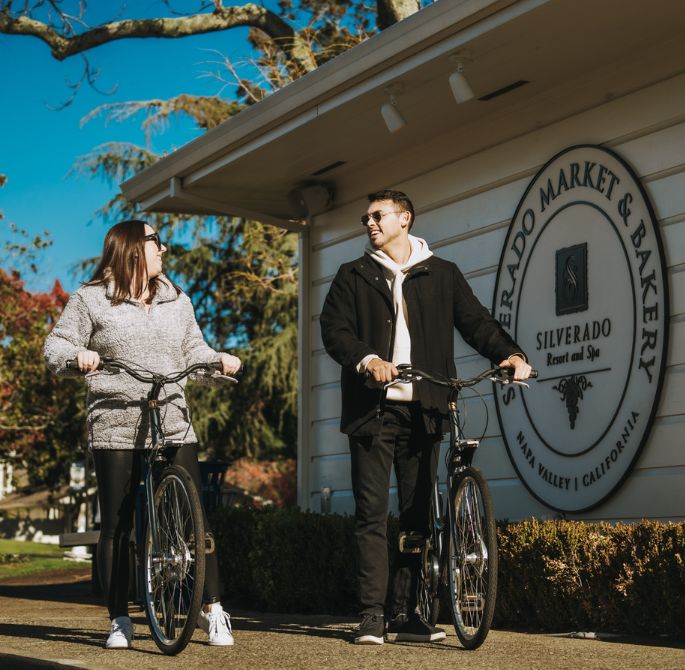 STAY 2 NIGHTS, GET 1 NIGHT ON US
Book by April 1
Quit foolin' around, it's time to book your Silverado vacation! Take a break with our limited time Stay Two Nights, Get One Night On Us and receive a $50 Resort Credit per stay. Play a game of tennis or bocce ball, try a dip in one of our whirlpools, or detox in the sauna. Use our early April Fool's Offer, so you can fully enjoy your time in Napa.
Valid on stays through December 30, 2023.  Booking offer expires on April 1, 2023. Two-night minimum stay required. May not be combined with other promotions or special offers. Taxes and gratuity not included. Blackout dates apply. $50 resort credit is per reservation booked. 
Happenings
Spring Kids Camp
Spring Break Week 1: April 3-5
Spring Break Week 2: April 10-12
Get your kids active and outdoors with Silverado's Golf and Tennis Camps. Kids develop friendships and interpersonal skills, learn about fair play while honing their skills and more. Designed for ages 6 through 12, each three or four-day camp is led by our award-winning instructors.
At the Golf Course - The Fundamentals in all three areas of the short game, full swing and putting.
On the Tennis Courts - Learn leadership skills, racquet skills and competition while fostering a fun and supportive team atmosphere.
CAMP FEE
$379* (Country Club Members $299), $60 add on Boxed Lunch
$455 Nonmembers
*Room Reservation is Required
RESERVE
Learn More
EASTER BUNNY PHOTO-OP
Saturday, April 8 | 10:00 AM - Noon
The Easter Bunny and Holiday Train will arrive at the Mansion Circle on the Saturday before Easter for family and guests to enjoy complimentary.
Located at the Mansion Circle Lawn
EASTER BUFFET
Sunday, April 9
Savor Silverado's annual Easter Buffet elegantly served in the Manion Ballroom featuring classic favorites like spring quiche and biscuits and gravy, as well as custom omelets, carved honey-glazed ham, and dessert stations!
Staggered seating, please select ONE time slot for your entire party.
10:00 am-2:00 pm
$135* adults | $67.50* children under twelve | complimentary for children under five
*price includes 24% service charge and sales tax
EASTER EGG HUNTS
Sunday, April 9 at The Mansion Gardens
11:00 AM & 1:00 PM (ages two - six)
11:30 AM & 1:30 PM (ages seven - eleven)
Brunch-goers and Resort guests, egg-cite your kiddos with holiday hunts for both younger and older little ones.
EASTER AT THE GRILL
Sunday, April 9 | 5:00-9:00 pm
Colorful eggs aren't the only thing you'll find around Silverado this Easter. Chef Pablo Jacinto has created an Easter a la carte menu with his signature flair. From Slow Roasted Leg of Lamb to Striped Sea Bass, this is an Instagram worthy affair.
For Reservations call 855-829-0940 or book on OpenTable here
RESERVE A TABLE